Cypress Trees in Louisiana
Preservationists Hurting Louisiana
---
An Opinion Piece by Jewel Willis

A large and growing segment of the timber industry in Louisiana is at risk of being lost. The segment of our timber industry that is under attack by "preservationists" in the environmental movement is the vast cypress-tupelo forest primarily in the lower one-third of the state. The first settlers in the region used cypress lumber for their houses, fences and boats but it was not until the late 1800s that extensive cypress harvesting began. Production peaked around 1913; and by the 1930s all but scattered small islands of cypress had been cut-over. Of the approximately one million acres of cypress found in Louisiana in the 1800s about 800,000 acres exists today. These trees have been growing for 100 plus years. Most of the stands are overstocked (have more trees per acre than the site will support) and are stagnant. Studies have shown that more of these tree die than are harvested annually. The demand and availability of cypress timber has encouraged the wood-using industry in the cypress belt to modify standard logging equipment to harvest trees in swamp conditions with minimum impact to the soil and overall integrity of the stand. Under the guidance of the Louisiana Forestry Association, best management practices that insure sustainability have been developed for wetlands logging. With the above facts in mind, a logical person would conclude that south Louisiana was ready to experience a healthy and needed addition to its industrial base. Unfortunately that is not happening. Since silvicultural (forestry) operations in wetlands are exempt under Section 404 of the Clean Water Act, the U.S. Army Corps of Engineers Regulatory Division has "decreed" that timber harvesting within areas tidally influenced by a navigable stream are now covered by Section 10 of the 1899 Rivers and Harbors Act and now require a Corps permit. That means no matter how far from a navigable stream a stand of timber may be, if it drains into a stream and falls below a yet to be determined high water mark, it is now to be considered in navigable waters. The one request made to the Corps office over two years ago for a permit to harvest timber under Section 10, has not been acted upon to date. To understand why the Corps would make such a far reaching, and in my opinion, totally unfounded ruling, one has to understand what is happening in the "environmental movement." A large, well-funded segment of this movement is intent on "saving" or "preserving" our forest. Their core belief is that, no matter what the cost, our forests should not be managed or used for any purpose other than certain abstract and intangible reasons. They completely reject the fact that to keep a forest healthy and productive, it is possible and necessary to harvest certain trees. The Corps of Engineers is being influenced by preservationists both within and outside the organization. A complicity, and in my opinion, irresponsible segment of the mainstream news organizations support their views by publishing or broadcasting articles that have little or no basis in fact, or are outright disingenuous. Some of the catch words to look for in these articles are "magnificent" or "ancient" forests and cypress mulch. All forest landowners and others who wish this state to be progressive and prosperous should be aware of this movement. All efforts to educate the general public of the value of the timber industry should be encouraged and supported. If the environmental preservationists are successful in destroying the fledgling cypress industry in Louisiana, they will be one step closer in destroying our entire forest industry. Jewel Willis is a consulting forester in Washington, La., who has more than 40 years experience, especially dealing with cypress forests.
---
The Real Problem with Cypress
---
Too much water causes cypress problem By Melanie Torbett A lot of public noise has been generated lately about Louisiana's wetland forests – that landowners are chopping down irreplaceable, centuries-old cypress trees and grinding them up into garden mulch, speeding up, if not actually causing, the state's coastal erosion problem and making it easier for hurricanes to devastate the region. The trouble is, headlines don't always tell the whole story. Coastal erosion and the loss of cypress swamps do intersect, but not in the way one might think, says one industry official. "Cypress mulch registers about a .005 on a scale of 1 to 10," as a factor in coastal erosion in Louisiana, said Rudy Sparks, vice president of Williams, Inc., which owns thousands of acres of swampland in south Louisiana. His company is not cutting cypress trees and hasn't harvested any in years. They can't. The dramatically - changed waterscape of much of south Louisiana has effectively rendered their acreage unfit for growing trees. It's not news that the natural hydrology of Louisiana's swamps has been disrupted over the years by the construction of flood control and forced drainage projects, canals and navigation channels, as well as some naturally-occurring forces. Tremendous acreage that once had seasonal wet and dry spells is now permanently flooded with either fresh or salt water. Land along the coast is sinking and Gulf waters are rising. The reality for a long time is that cypress trees in the region are being drowned, not cut down. "Today there is only a small area of merchantable timberland inside the Atchafalya Basin once you get south of I-10. We've lost most of our forests in this part of the state," said Sparks, whose company is one of the large landowners most affected by the coastal erosion drama that continues to unfold. Landowners like Williams, Inc. have resource-rich lands that in the past produced great profits from timber and oil and gas production and provided excellent habitat for fish, and wildlife. Yet, their assets are threatened by the rapid deterioration of the region's natural ecosystem. Williams, Inc. owns 70,000 acres of cypress-tupelo swampland in 13 parishes that stretch across the southern part of the state. Continuing to maintain offices in the St. Mary Parish town of Patterson and in New Orleans, this family-owned enterprise was a huge player in the late 19th century-early 20th century cypress lumbering boom, at one time operating what was reputed to be the largest cypress sawmill in the world in Patterson. Its economic lifeblood for decades, however, has been oil and gas production. A combination of factors – mostly involving the radically - altered waterscape in this part of Louisiana – has made Williams' land unsuitable for growing trees, explained Sparks. Regeneration of cypress has been generally unsuccessful, and existing trees continue to die. "We have been dealt a pretty tough hand," said Sparks, who is also a forester. "We have all this swampland that is now not suitable for growing stands of trees. And it's not very productive for wildlife habitat either." "In the 27 or 28 years since I've been here, I've conducted one timber harvest – and that was on 50 acres that produced $18,000 in income. That's been the sole timber income on 60,000 acres." History tells us that from about the late 1880s to 1930, almost all the virgin cypress timber in south Louisiana was harvested. There was successful natural regeneration of cypress and water tupelo in this area in the 1920s, but in subsequent decades, big public works projects and natural subsidence began to alter the flow, water levels and salinity of Louisiana's rivers, bayous and swamps. Changes made to the natural land and water systems began affecting the ability of the land to sustain healthy stands of trees. "From I-10 southward, we have drowned the whole area," asserted Sparks. "Today we have dead and dying, stagnated swamps." Thus, for the last several decades, there has been little cypress harvesting in these parts. "We have not sold $50,000 worth of timber in the last 40 years," Sparks said. "The other major landowners in the area are in pretty much the same shape. We've got a real problem, and very few people understand it." And he contends the future looks bleak. "There's nothing in the future. The timber component has been taken out of these properties. We have had 75 years of lost productivity." There continues to be efforts to regain ground, so to speak, in the fight to save Louisiana's coastal lands. Wetland forest management has been recognized as a critical component of the issue. Sparks served on the Advisory Panel to the Coastal Wetland Forest Conservation and Use Science Working Group that recently submitted recommendations to Gov. Kathleen Blanco and the Coastal Protection and Restoration Authority. That report is slated to go to state lawmakers for consideration during the current legislative session. (The Science Working Group also submitted a report to the Governor in 2005.) The advisory panel's recommendations call for such measures as helping landowners manage their wetland forest acreage, delaying harvests, identifying and classifying forests according to their suitability for regeneration, developing criteria for prioritizing restoration and conservation projects, and dedicating state funding for the efforts. But Sparks is concerned that while such measures may be helpful, they won't result in any dramatic improvement to the health of wetland forests in south Louisiana. The state must address the inundation of the forests, he contends. He pointed out that since the 1930s, there has been "extended devastation because of siltation and backwater flooding in the Atchafalaya Basin." In the Lake Verret Basin, he said, changes to the natural drainage patterns have also raised water levels, killing trees along bayous and sloughs in the past two to three decades. "I challenge anyone to find a living live oak tree in the lower Atchafalaya Basin today," asserted Sparks. "Most died 30 to 40 years ago. We have lost all the hardwood ridges that used to line the bayous." "The hardwood forests began to die in the 1970s, then the tupelo and cypress began dying in the 1980s," said Sparks. "In the lower part of the Atchafalaya, nearly all the old residual cypress died – old growth, relic trees that were 800 to 2,000 years old." "It has been a free fall," Sparks said. "The 1973 high water was the tipping point." He points to maps of the Atchafalaya Basin that illustrate where water has permanently inundated timber areas, especially in St. Martin, Iberia, St. Mary and Iberville Parishes. In 2002, the Louisiana Landowners Association issued a position paper, "Coastal Restoration in Louisiana: Striving for a Higher Level," which Sparks believes puts forth a plan that really addresses the forest inundation problem. That group is a private organization of 250 individuals and corporations that collectively own about 3.5 million acres of land in Louisiana's coastal region. Though the group recommends multiple strategies for coastal restoration, its report zeros in on the importance of using the full sediment-carrying flow of the Mississippi River to rebuild Louisiana's coast and flush out the natural system. Making changes that would restore some of the natural freshwater flow patterns of the Mississippi River-Atchafalaya River system would definitely help rebuild landmass that could support a productive bottomland hardwood forest, said Sparks. "We need to use a third conveyance channel to emulate what Bayou Lafourche once did, to bring water into the Barataria Basin and toggle water back and forth between the Atchafalaya and Barataria Basins." He acknowledges, echoing the conclusions of the landowners' report, "There is no way to draw up a plan that will restore the historic hydrologic patterns." And Sparks is not optimistic that a comprehensive, sustainable restoration plan can get the necessary public and private support to reverse the phenomenon. "There's an opportunity to do good things, but there are too many stakeholders to satisfy." These stakeholders include a diversity of interested parties, from shrimpers, fishermen and trappers to landowners, oil and gas producers, developers and environmentalists. "We have the plans, and have had them for 20 years," said Sparks. "But we're chasing all the wrong issues." Melanie Torbett is a writer and forest landowner in Alexandria who has been covering the cypress issue for Forests & People magazine.
---
Truth About Cypress
---
The Truth About Cypress For those who live in south Louisiana, a public campaign predicting the annihilation of cypress in the state has been ongoing for the last several years. "Battle over cypress" was a headline in the Baton Rouge Advocate quoting forestry officials on one side and so-called environmentalists on the other. So, what is the truth and how did all this get started? The cypress tree is our state tree. Do we still have plenty of cypress in Louisiana?
Our recent forest inventory shows that we have about 800,000 acres of cypress forests with 1 billion board feet of cypress. Figures show that we have 221 million board feet of growth each year. Former State Forester Paul Frey has said that the most recent U.S. Forest Service FIA data indicates an increase in cubit foot and board foot volume of cypress between 1991 and 2005, which indicates that most of our forests are in a sustainable condition. We harvest about 30 million board feet of cypress each year but we also have about 21 million board feet of cypress dying in our forests due to various reasons, mostly saltwater intrusion. Why are these trees dying?
It's not a new problem in Louisiana. In short, the problem is water and salt. Water control measures to prevent flooding in some areas have dumped more water in others. Some areas like the lower Atchafalaya have trees dying from too much water and too much saltwater. Canals cut into the landscape of the state have brought saltwater further inland to further erode the viability of standing trees and to prevent the growth of new cypress which typically grows from sprouts by natural regeneration. Should we stop cutting cypress?
Cypress grows across the state, not just in south Louisiana. Loblolly/shortleaf pine forests are the most prevalent in the state, but gum/oak/cypress forests are the next more common forest type. The Louisiana Forestry Association, a program facilitator for the Sustainable Forestry Initiative, supports the harvesting of cypress in a sustainable manner. Louisiana Best Management Practices guide landowners, loggers and foresters in management of cypress forests. State law prohibits cutting cypress in water bottoms owned by the state. We care as much as anyone about cypress. If landowners stopped cutting cypress trees, there would be no fine wood for furniture or other products. But also consider that landowners would have no economic incentive to keep their land in productive forests. The forest value would disappear. Who owns most of the cypress forests?
The situation is the same in Louisiana as we have in all of the South. Private, non-industrial landowners own about 80 percent of the commercial forests. If they can not manage their forests, what incentive is there to keep them in forests? The biggest loss of forestland across the South has been development for homes and commercial properties. The LFA suggests that we provide incentives to private landowners to keep their land in trees. When did the controversy start?
Four years ago an ordinary logging job in Livingston Parish got the attention of some around the Lake Maurepas area in southeast Louisiana. The EPA did not have a problem with the cut because it fell under the status of an ongoing silvicultural activity. But the U.S. Army Corps of Engineers stepped in using an 1899 Rivers and Harbors Act to shut it down. The Corps said a permit would have to be issued before logging could continue. No such permit had ever been issued before. The one landowner who asked for a permit two years ago has never received one. What exactly does the Corps take issue with?
In these wetland forests where cypress grow, harvest usually take place during the dry season. Mat logging is the recommended practice for the sites to prevent soil disturbance. The logger fells a row of trees to use as a road for the heavy equipment to travel on. When the logger is finished, the log mats are removed. The Corp maintained that this mat of logs was actually a structure, an impediment to navigation, and therefore a permit was needed. Because silviculture in wetland areas has never required a Section 10, Rivers and Harbors Permit, the U.S. Army Corps of Engineers has no permit process in place. Are these logging jobs reasonably considered an impediment to any navigation?
No. What is the situation in other similar states?
Only the New Orleans District of the Corps is invoking the Rivers and Harbors Act. In fact in Florida, the forestry community and the environmental community have agreed to a set of Best Management Practices that call for mat logging in these forests. Is the Lake Maurepas area a sensitive area?
Saltwater has intruded on some areas around Lake Maurepas on the southeastern side. On the western side the cypress forests are suitable for sustaianable forest management. What does the Louisiana Society of American Foresters say about the issue?
The Louisiana SAF, which represents professional foresters, has issued a policy statement.In a letter from Steve Templin, SAF chairman, he says the Corps is "clearly overstepping their jurisdiction." What about environmentalists' aim to stop the sale of cypress mulch. Is mulch a problem?
Less than 2% of the trees harvested in Louisiana are cypress. Less than 20% of that 2% goes to mulch. Most landowners sell their cypress for higher value products like cypress lumber that is found in homes throughout the state. The by-products from these sawmills should go into other markets like mulch. Otherwise, these operations would have to deal with the disposal of debris in a non-beneficial way. Is cypress mulch a good choice?
The LSU AgCenter website recommends mulching for gardeners. There are many good choices and cypress mulch is one of them. One of the benefits is its durability as a mulching agent. What about storm protection? Some of these groups have said the trees need to stand as storm protection in case of a hurricane.
First, remember the first defense along our coasts are marshes where no trees grow. It's not for miles inland until you reach the first band of forests. Stopping a single landowner from cutting his few hundred acres will not provide storm protection for the state. Do we want to stop all forest management? How much protection would this afford? Who is responsible for protecting the state from storm events? If it is the private landowner, the landowner should be compensated for his sacrifice. What action, if any, is suggested by the Louisiana Forestry Association?
We have gone on record supporting research to study and map sensitive areas where regeneration of cypress could be a problem. Incentives are needed to assist landowners in meeting the state's needs as well as providing support for sustainable forest management.
---
Cypress Mulch
---
Most of the cypress forests are privately owned and have been in family ownerships for decades. Landowners have cared for these forests with their own resources, asking for no government subsidies or outside assistance. When it comes time to harvest their trees and prepare for the next generation of trees, landowners meet resistance from those who don't want trees cut. This causes landowners to lose markets and income needed to continue their forest management activities. Cypress is primarily harvested for its quality lumber. The by-products are converted into mulch rather than being wasted. Some cypress forests need to be thinned for healthier growth and these trees may be converted to mulch rather than being wasted. Landowners do not destroy cypress forests when harvested. Landowners are committed to managing their forests through principles of sustainable forestry. It makes no sense that a landowner would conduct any activity that is not beneficial to his forest investment. Economic incentives encourage private investment in cypress forestry. Private landowners enjoy healthy productive forests. Purchasing more cypress and wood products encourage landowners to invest more in their forests and expand the care and stewardship of cypress forests.
---
Sustainable Cypress Guide
---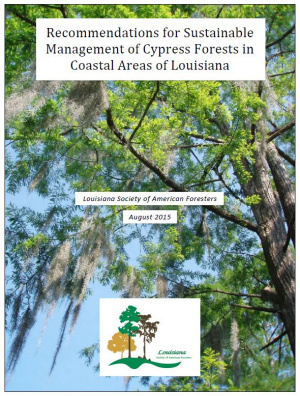 After seven years of study, the Louisiana Society of American Foresters has completed a peer-reviewed study offering advice on management recommendations for cypress in coastal Louisiana. To read this 140-page publication on the Sustainable Management of Cypress in Coastal Louisiana click this link.
---
---